BLUE Bar
On the rooftop of a strip mall where a hotel resides, is one of the best places to get Polynesian cocktails I thought I could ever find. I never really expected to find one of the very best craft cocktail lounges I've ever been to is a Marriott hotel attached to a shopping mall.  The Marriott Renaissance Resort & Casino in Aruba is a cocktail lounge you must visit if you really want to experience what real mixology is all about.  If you love cocktails as much as I do, this is the place.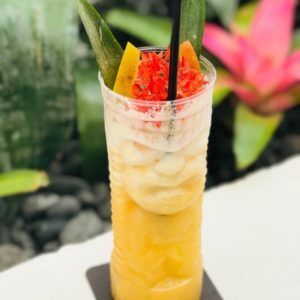 This place has by far the best Tiki drink I ever had.  I never would have thought so because all week I was drinking typical frozen drinks like piña coladas, daiquiris, and other such Jimmy Buffet inspired libations at the cost on average of about $10 each.  When I looked at the menu and saw these "Specialty Cocktails" were upward of $12 I was very skeptical.
After reading a clear description of the cocktails in a very simple but beautifully designed drink menu, I thought for sure this might be worth the investment.  I am very happy I did have not one but two cocktails here. It goes right up there with some of the very best cocktail bars I've been in, and that is saying a lot. All too often "specialty, craft or signature" cocktails often end up to be a glorified screwdriver at best.  The night before I paid $9 for an "Iguana Kiss" which was no more than a vodka cranberry which may or may not have contained pistachio syrup. I could not tell because it was 90% ice.
Here there is the real deal. This is what a cocktail is and should be. So often the cocktails delivered only have some of the ingredients promised depending on the bartender on duty. In this case, when I came to the bar and started asking questions, the bartender stepped aside and the mixologist took over.
For a split second I might have been disappointed the pretty young Dutch girl would not be serving me, I was later very thankful Glenn stepped in to serve me what I was hoping to drink at those prices.
I saw this gentleman carve a fresh pineapple and toil over every ingredient using a jigger for exact measurements every step of the way.  He took the time to garnish the drink correctly and display all the correct methods of a master mixologist.
The menu is designed and laid out very well. They have enough confidence to know their drinks are well balanced that they work just as well with or without the alcohol. There is a great description and full details about what the drink offers.  It might only be in black and white but its really the most attractive cocktail menu I've ever seen.
---
© 2017-2023 (MMXXIII) JRCX.COM ALL RIGHTS RESERVED