Chan's Dragon Inn
This was truly one of the last of the great Polynesian themed tiki bars. In New Jersey there are less than a handful left, and this is only one of 3 in North Jersey. It has all the decorations to make it officially tiki: vintage photos of Hawaii up on the wall, outrigger boats hanging from the ceiling along with blowfish as lamps, and of course many tiki statues all the way around. They even managed to mix the cultures and sneak a Buddha in there.
Of course the true test of any Polynesian Tiki bar is the Pu Pu Platter. Like any sampler platter, it is about half a dozen appetizers and a nice cross section of the food and flavors they have to offer.
When I order the pu pu platter, for me its a mini buffet and takes the place of an entree. For me, there is little point of going to a Polynesian tiki place if you do not get the Pu Pu Platter.  In fact, even though the food came out piping hot, it was still interesting to see the other patrons holding the appetizers over the sterno flames like I used to do as a kid.
The ribs were big, meaty and delicious. Biting into one of these is something I have not tasted in quite some time from any Chinese restaurant.  While I was not impressed with the mini egg rolls, my wife said they were fantastic, the best she ever had.  It was date night so I was not about to argue with her.  She has an allergy to shellfish, so I had the shrimp toast and fried shrimp to myself, both delicious. The beef skewers were a winner with both of us.  The fried chicken wings were good, but a bit greasy, but everything overall was very good all things considered.
The cocktails were very good, especially at the price of about $9 each.  It was not some carelessly juice dumped into a mug of ice along with artificial sour mix and bottom shelf rum.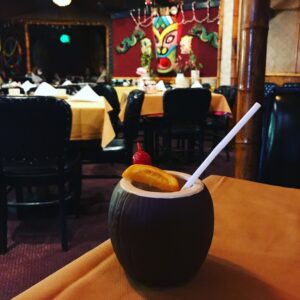 Flaming Virgin: Who can resist a flaming drink in a giant bowl? The best part was this was not 90% ice.  The drink was a light one, the rum was there, but the flavors were a bit too mild for my taste.  The description reads: "A fine blend of fruit juices, light rums topped with a flaming view.  Dark glasses not needed.
South Sea Satellite: "Lemon juice and a falernum rum, coconut milk and served in a coconut shell" as the description reads. It was not served in a real coconut shell like some do, but a ceramic one which works just as well.  My wife loved it. The lemon juice and coconut were there, but I could not taste the falernum.
Navy Grog: I was paying careful attention to the second and last round of drinks we ordered.  I saw some Angostura Orange Bitters being dashed into the mixing glass and thought for sure this was for the "secret recipe" Zombie, but it wasn't.   Since this second set of drinks came in identical glasses, I could not tell which was which.  So I asked in which drink he put the bitters he said "Navy Grog, always bitters". Interesting since this was one of Frank Sinatra's favorite cocktails and never saw a recipe that mentioned bitters. Nevertheless, this worked out really well.  Personally I don't like Angostura's orange bitters, I much prefer Fee Brothers or even Reagan's, but this is proof that any ingredient works well within the right dosage and the ideal cocktail.  This works.
Zombie: "This our own.  Without comparison Chan's Restaurant's private recipe with heavy and light rums and fresh fruit juice".  So, now this is a flashback to the days when Trader Vic and Beach Bum Jerry would so closely guarded their recipes, that the bartenders did not even know the ingredients.  They were just told to mix an ounce from bottle "A" with a half ounce from bottle "B", etc.  So of course I was keeping an eagle eye on the bartender in the other room through the plexiglass to see what he was pouring.

It looked like Leroux Cherry Brandy (probably cherry flavored brandy), melon liquor, Cruzan Overproof 151 Rum and what looked like processed/pasteurized orange juice (not fresh) from a gallon jug.  I saw another jug come out which was slightly brownish in color, perhaps it was a mix of pineapple and something else. It almost looked like apple cider.  It was hard to tell which drink he was mixing since both were made at the same time.
The entree is Sesame Chicken and pork fried rice.  They only serve it with plain white steamed rice, so the fried rice we had to order separately.  The fried rice is great, the chicken was ok, but it was the vegetables like broccoli, mushrooms, baby corn and water chestnuts which made this dish shine.  I don't really see the point of frying the chicken in a dish like this, but at this point, my hunger is satisfied both by the pu pu platter and the cocktails.  So whatever they bring next is fine by me.
The music was not necessarily tiki, but it fit.  All music from the mid 1960s to 1970s. Songs I have not heard literally since I was a kid when I first fell in love with tiki places like this. I can remember being at my cousin's house and hearing Elton John, and in my own house where I grew up listening to Glen Campbell on AM radio.  When I heard Seal come on from the mid 1990s I turned a deaf ear, but all the rest was from the 1960s and 1970s.
There were too many to remember but here is what I can recall.  I have to give them a pass on this simply because it was all the popular music that would have been playing in the 1970s when the place first opened.  Looking around the dining room you can see that the crowd was all at an age when we can remember this music, one gray haired lady was even bobbing her head to the tune of Glen Campbell's "Souther Nights".
Del Shanon – Runaway
Beatles – Just Another Day
Elton John – Beyond the Yellow Brick Road
Glen Campbell – Southern Nights
Seal – Kiss from A Rose
Percy Sledge – When A Man Loves A Woman
Dave was a very gracious host. I am not sure if he was the manager or owner, but he took time to be sure everything was going well with our visit and even took time to talk to me about tiki culture on our way out.  We even got a photo with him, which is not something I usually do, but we departed as if we were friends, and that just adds to the comfort of going back out into the real world.  After all, this is what these places were originally designed for… escapism. To be transported to another time and place.
Chan's Dragon Inn
630 Broad Avenue Ridgefield, NJ
---
© 2017-2023 (MMXXIII) JRCX.COM ALL RIGHTS RESERVED