Exotica Night at Raines Law Room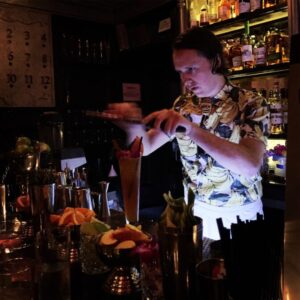 One of my favorite events for tiki is Exotica Night, hosted by Garret J. Richard. It is tiki and Polynesian cocktails in its most pure form that I can say in my experience.  It is a pop up, its word of mouth, and it usually takes place in Raines Law Room at the William Hotel in the Murray Hill section of Manhattan, which is a Speakeasy.
The crowd itself is all pure tikiphiles, and so is the decor, music, and atmosphere. Everyone dresses accordingly.  The popup has become increasingly popular. Before the pandemic, they had made it up to their 8th edition of the event.
There are no reservations, and if there is a wait to get in, you are greeted off to the side room with a complimentary cocktail hosted by a rum distillery like St. Teresa. Even that is authentic. It is a rum punch served from a bowl and poured into a teacup.  Once you get into the lounge next door, there is a menu which changes for every event.  They are the classics, and variations of the classics.
Exotica Night IV (September 16, 2018)
Original Sin
Antillies Cooler
Beachcomber's Gold
Kon Tiki
Cherry on Top
Sub-Mariner
Last Rites
Pimm's Tropicale
Midnight Dancer
Exotica Night V (December 18, 2018)
Exotica Night VI (2019)
Exotica Night VII (September 8 & 9 2019)
Maui Margarita – (Frozen) Resposado tequila, crema de mezcal, hisbiscus, lime, cane and demerara sugars
Pineapple Princess – Milk washed rhum, 12yr Jamaican rum, pineapple gimme, lime, vanilla, tonic bean
Zombie – (Don the Beachcomber) Jamaican rums, 151 Demerara rum, Don's mix, falernum, lime, exotica spices
Orange Grove – White Haitian rhum, acid adjusted orange, coconut oil, macadamia nut, curçao
Bird of Paradise (Stranger's Club 1930s) Cadenhead gin, raspberry eau de vie, cream syrup, lemon, raspberry, soda
East of Java – 5 Island rum, gold Jamaican Rum, cold brew coffee, grapefruit, orange syrup, apricot, lime, absinthe, falernum
Fish House Punch (Schuykill Fishing Company, 1732) Cognac, Demerara rum, black Jamaican rum, Assam Tea, Lemon, Peach, lemon cordial, Peychaud's bitters
Improved Tiki Cocktail – Simple Estate Jamaican rum, passion fruit, crème de Noyaux, absinthe, orange bitters, lime zest (stirred)
Water Works – Dill aquavit, watermelon, yuzu, black currant, benedictine, Ambrato vermouth, sparkling wine
Exotica Night VIII (January 19, 2020)
Tan Lines
Wave Break
Yellow Bird
Starboard Light
Den of Sin
Noble Truth
Planter's Punch
You Only Live Twice
Zombie (1956)