Jade Island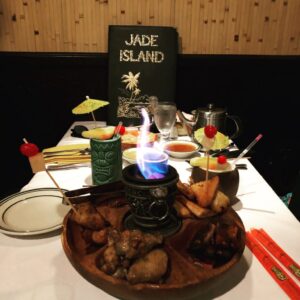 Staten Island is often referred to as the "Forgotten Borough" of New York City. No subways run there, and if you are there, sometimes it is odd to see NYPD vehicles on the road. It is very suburban yet still part of New York City.  Within a strip mall is a well preserved Polynesian Restaurant and Tiki bar.
Built in 1972, Jade Island appeared on No Reservations with Anthony Bourdain about 10 years ago (Season 5; Episode 19 NY Outer Boroughs). I don't ever recall seeing the episode, but being an avid Tony Bourdain fan so I am surprised I missed it.  What I almost missed what finding this place as well.  The GPS (Waze) put me in the general vicinity but the address is of a sprawling strip mall the size of a small city.
By all accounts of the locals, the Headhunter Cocktail and the Pupu platter are the things to order here.
To cut to the chase, the cocktails and the ribs are worth coming here for. Anything else, and you are on your own.  The pupu platter did not come with an egg roll so we had to order separately with our entree, along with pork fried rice since they only serve a small bowl of steamed white rice.
Anyone that knows me fairly well knows how much I loathe 1980s top 20 music. It was fine once upon a time, but I don't want to hear it in every single place I visit from a strip mall to a bank to a restaurant. It would seem as if the same songs are playing on a loop. I can leave one place, enter another and the same song is playing.  So imagine my distress when I heard 80s music playing in a vintage tiki place like this.  Why?  90s, 2000s, even 1960s, but why 80s which is when Tiki was pretty much dead, gone and buried?  Its blasphemy.  The only good thing here is that the music disappeared about halfway through my visit.  Just some sports broadcast could be heard, and I am not complaining.  The simple sound of the waterfalls is pleasing and tranquil, no need for horrible one hit wonders that should have faded along with that decade.
As for cocktails, The Headhunter was ok at best.  The Coconut Kiss my wife got was far better. My 2nd drink was a Scotch drink called Diamond Head and was far better if it were not for the sweet and sour mix I am almost sure I tasted.  It had a slightly smokey taste and along with the fruit, this was a unique cocktail.  My wife's second drink was namesake cocktail of Jade Island.  For me, it tasted like Hawaiian punch with some booze in it. They don't reveal a drop of whats in it on the menu since it is their "private" concoction.
4 Drinks, 1 pupu platter, 1 entree, 1 eggroll and 1 side of pork fried rice set us back $100, $118 with tip.