Chili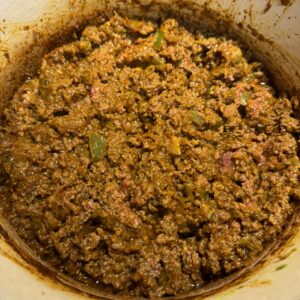 INGREDIENTS
1 pound fresh ground beef, 80% lean / 20% fat
1 can black beans beans
1 small onion
1 small green bell pepper
2.5 teaspoons Better than Bullion beef broth plus 2.5 cups of water
3 cloves garlic, finely chopped
1 tablespoon brown sugar
1 teaspoon chili powder
1 teaspoon sweet paprika
1 teaspoon smoked paprika
1 teaspoon dried oregano
1 teaspoon cumin
1 teaspoon black pepper
1 teaspoon kosher salt
1 dried bay leaf (torn in half)
1 ounce apple cider vinegar
2 tablespoons tomato paste
METHOD
Start with the sofrito of finely chopped garlic, onion and pepper. it is fine to use a small food processor for this.
After a few minutes when sofrito has broken down and has become soft, add in the tomato paste and all the herbs, continue to cook, this will give it some depth.
After another few minutes add in the ground beef and continue to break it up until it is browned completely.
Add the apple cider or other vinegar to deglaze the bottom of the Dutch oven.
Add the beef, chicken and/or vegetable stock
Add in the beans, bay leaf and sugar.
Continue to cook for 2+ hours and/or until it is the consistency of your choice. Taste to see if it needs any additional salt, pepper, or sugar.
From there you can do whatever you love to do with chili. Eat it plain right from a cup or bowl; serve it as a dip with tortilla chips, as a topping on a hot dog or even serve with rice.
This is my favorite way… I put it in a crock, top it with cheese, put it under the broiler for a few minutes and serve with tortilla chips, guacamole and whatever else you like.  Hey, it took 3 hours to cook enjoy it, and it is even better as leftovers!