Lee's Hawaiian Islander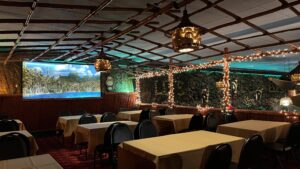 [December 21, 2021 – Lyndhurst NJ]  One of the last remaining original Tiki Bars and Polynesian restaurants on the East Coast after the pandemic. They had a setback due to a minor kitchen fire, but it looks as though they will pull through.
So what has changed since my last visit before the Covid Pandemic? Well, Chan's Dragon Inn closed, and they have hired some of their cooks.  I definitely saw an improved taste and quality of the food.  Lee's always had the better cocktails, but Chan's had the better food.