Paradise Lost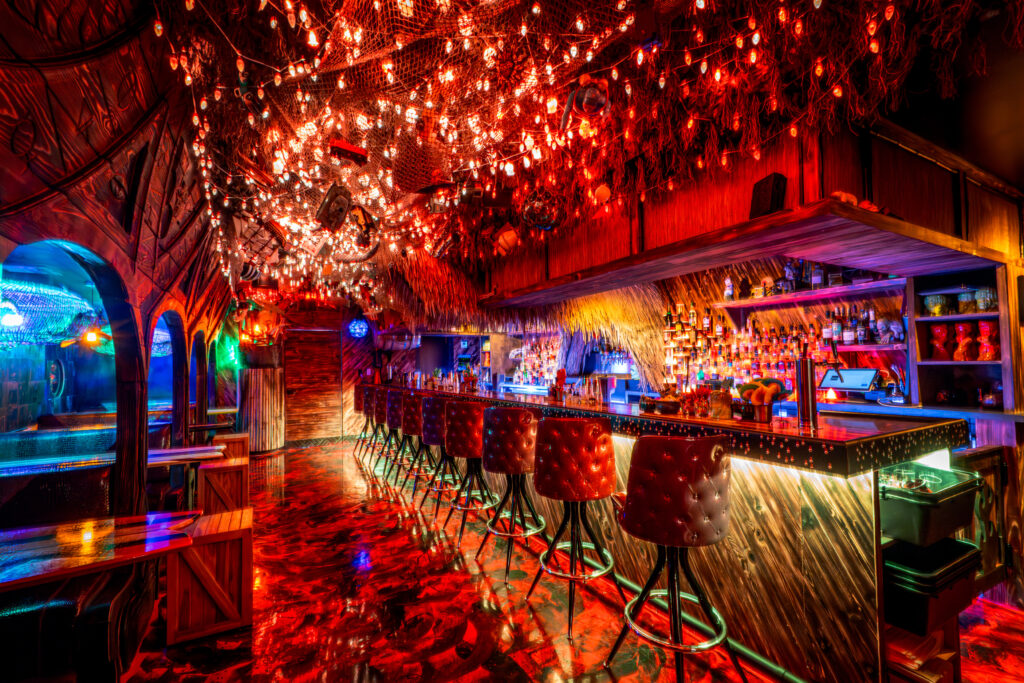 Paradise Lost Opens in the East Village Cocktail veterans open theatrical, tiki-inspired tropical cocktail bar 
New York, NY, October 13, 2023 – Paradise Lost, the new immersive bar featuring rum and tiki-inspired and tropical cocktails, opens in the East Village (100 2nd Avenue, at 6th Street).  Partners Kavé Pourzanjani (Dear Irving and Nitecap) and Ray Sakover (The Happiest Hour and Slowly Shirley), and Josh Vera collaborated to create a campy, transportive experience that takes guests to a tropical "hellscape". The bi-level space is designed by 71 Collective (One Fifth, Turks Inn, Clover Hill) elicits a sinister escapism, and is anchored by eclectic decor such as an 8 foot tall altar and a giant taxidermy bat head.
THE STORY – "The Lore" + THE DESIGN
A fictional backstory known as "The Lore" surrounds Paradise Lost in which the bar exists in a cosmic plane known as "The Abyss" that is inhabited with unique characters. Many of the cocktails and design elements are inspired by 'The Lore' and the characters to further engage guests with this narrative.
The team worked closely with 71 Collective to create the transportive, maximalist space. Guests walk into the bar through a long, lush hallway lined with flora and are met with an entrance door clad in white fur. The dark, mystical space features shou sugi ban charred wood finishes, shagreen and snake skin banquette seating with custom fabricated tables to look like classic surf boards, epoxy finished floors and a studded leather surfboard inspired bar. Additionally, the space holds an expansive collection of taxidermy, including a bat head designed by an artist whose work is featured in the Smithsonian, as well as an 8 foot tall altar that anchors the room and an experiential lighting installation that changes colors when certain drinks are ordered.
THE MENU
The cocktail program at Paradise Lost primarily features rum-based, tiki-inspired drinks, including the Beelz's Road Soda, a clarified Pina Colada with a rum blend, coconut liqueur, coconut water, clarified pineapple juice, and pandan; Chaos Magick, a nod to the classic tiki drink Black Magic, with Rum Fire, Green Chartreuse, coffee liqueur, cold brew concentrate, Ras El Hanout syrup, and alpine bitters; Cobra's Fang with a blend of rums, Fassionola syrup, lime, orange, and absinthe; Demerara Dry Float with rum, passion fruit, and maraschino liqueur, served with a 151 rum "side of danger"; and the Tarman, a clarified milk punch version of a 1934 zombie with a blend of rums, falernum syrup, hibiscus grenadine, cinnamon syrup, grapefruit, and lime, clarified with soy milk, as well as other spirit-based cocktails such as the Archfiend with jalapeño-infused tequila, makrut leaf-infused mezcal, galangal agave syrup, lime cordial, hibiscus syrup and hellfire bitters; I Saw Fire Sour with a whiskey blend, red miso sesame orgeat, yuzu, ginger syrup, lemon, grapefruit and a  mushroom tincture float; and Merchant Kane's Soothing Coco Cooler with mezcal, Jägermeister, sherry, housemade coconut horchata, Ancho Reyes, and bitters. Additionally, a selection of rum flights, Ti' Punch service and large format cocktails are also available.
The food menu includes Crispy Rum Spudlets with spiced plantation rum butterscotch syrup, sliced scallions, cotija cheese, and fermented Thai chili; MezuMusubi, Japanese rice balls with the choice of inari, pastrami, or spam; Damned Dumplings, chicken gyoza with a spicy garlic butter glaze and cilantro; Sticky Ribs with a tropical guava and dark rum glaze and garnished with crunchy fried garlic and chives; and Kappa Krab Roll, imitation crab with citrus vinaigrette, pickled gobo and chives served on a toasted Hawaiian hot dog bun with spicy Japanese mayo.
---
© 2023 (MMXXIII) JRCX.COM ALL RIGHTS RESERVED