Piccadillo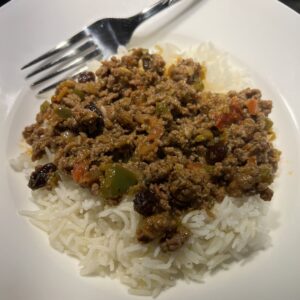 This Cuban dish which is basically a version of chili, except it is served with rice.  I know that sounds a bit narrow, but it is delicious and is far better than chili over rice. It is super simple to make, and takes less than 30 minutes, although, the longer you cook it, the better it will taste.
Simply cook the pepper, onion, garlic first, until soft and fragrant.  Next add the tomatoes, sauce, pimento, oregano, white wine and tomato paste and cook another 5-10 minutes.  Lastly, add the chopped meat, chorizo and cook until thoroughly done, about another 15-20 minutes.
Add fresh cilantro and serve this with white rice, chips, or whatever you like but its best over rice.
INGREDIENTS
1/2 cup crushed tomatoes
1/2 teaspoon Goya Sazon
1/2 teaspoon Goya Adobo low sodium
1/2 teaspoon salt
1 teaspoon pepper
1 ounce raisins
1 clove chopped garlic
11 chopped pimento olives (about 1 ounce)
2 tablespoons fresh chopped cilantro (1 tablespoon for cooking, 1 tablespoon for serving)
1 teaspoon dry oregano
1 tablespoon tomato paste
11 cherry tomatoes
1 small onion
1 small pepper
1/4 cup dry white wine
1 pound ground beef
1/4 pound chorizo (optional)
1 tablespoon olive oil
1 strip bacon, chopped
---
© 2017-2023 (MMXXIII) JRCX.COM ALL RIGHTS RESERVED