Puerto Rican Chickpea Stew
(Garbanzo Guisados)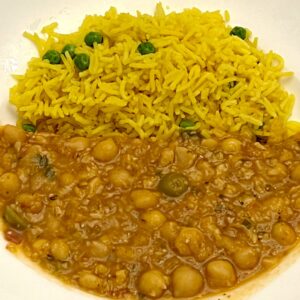 Always on a quest to seek out new recipes and dishes that are not only ethnic, but healthy and vegan, this is a winner.  I know the recipe suggests bacon, but that is totally optional. And of course, you can swap out the chicken broth for vegetable and/or garlic broth.  Cutting out meat from a daily diet is not always about going completely vegan, as much as it is, just cutting the meat out as much as you can. The other good thing about this dish is, you really don't need anything perishable. All of the ingredients here are easy to pull from the pantry or shelf-stable. The cilantro can easily be dried, but of course fresh is better.
INGREDIENTS
2 15-ounce cans garbanzo beans (half blenderized)
1.5 teaspoons Sazon
¼ teaspoon Adobo
1 tablespoon fresh chopped cilantro
¼ cup tomato sauce
¼ cup Goya sofrito
2 cups chicken broth
1 teaspoon oregano
2 bay leaf
2 pimento olives, sliced thin
3 strips bacon (optional)
METHOD
In a medium sized sauce pan, heat the olive oil over medium heat.
Add the sofrito and Sazon seasoning. Saute for 2 minutes, until fragrant.
Add the tomato sauce, oregano, & bay leaves. Saute for 1 minute.
Add the chicken stock (use vegetable stock if vegetarian), beans (with their liquid), olives, and chopped cilantro. Cover and bring the mixture to a boil.
Once the mixture comes to a boil, add chickpeas, reduce to a simmer and cook for 25-30 minutes, stirring occasionally. The mixture should be very creamy and not soupy.
Check for seasoning, and add Adobo or salt if needed.
Serve over white or yellow rice, with an extra sprinkle of cilantro, if desired.
---
© 2017-2023 (MMXXIII) JRCX.COM ALL RIGHTS RESERVED